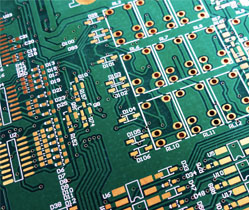 OnBoard Circuits Inc. offers printed circuit board manufacturing capabilities ranging from Surface Mount Technology (SMT), Manual Insertion (MI), Auto-Insertion (AI) and Chip On Board (COB). Learn more about our pcb assembly capabilities below, or qet your PCB assembly quote started right now.
Surface Mount Technology
Employing state of the art DEK printers, placement machines and BTU convection air reflow ovens. With many years experience with placing BGA, UBGA, CSP and small profile passives down to and including 0201, we offer a cost effective high yield solution to any SMT requirement. Each production line is equipped with a high speed, multi-function SMT machine with automated material loading capability, fully automated printing press, reflow and temperature tester as well as AOI, which ensures both capacity as well as SMT assembly quality.
Pin Through Hole
Capabilities to place tape and reeled radial components in various sizes. Maximum PCB size is 25″ x 25″. Placement rates reach 5000 pieces per hour with an accuracy of 99% minimizing component loss.
RoHS
We have the capability to handle your RoHS / Lead-free requirements.
Selective Wave Solder
Selective wave soldering machines allow for more consistent quality and process control when assembling boards having multiple ground and power planes, high-current connectors or A-typical distribution of components.
Conformal coating
Both dip-coating and vertical spray coating is available. Protecting non-conductive dielectric layer that is applied onto the printed circuit board assembly to protect the electronic assembly from damage due to contamination, salt spray, moisture, fungus, dust and corrosion caused by harsh or extreme environments. When coated, it appears as a clear and shiny material.
Complete box build service
Complete 'Box Build' solutions including materials management of all components, electromechanical parts, plastics, casings and print & packaging material.
Inspection Methods
AOI Testing includes checking for solder paste, components down to 0201″ and missing components, offset, incorrect parts, polarity. X-Ray Inspection provides high-resolution inspection of BGAs and bare boards. In-Circuit Testing, which is commonly used in conjunction with AOI minimizing functional defects caused by component problems, includes Power-up Test, Advanced Function Test, Flash Device Programming and Functional testing
SMT line: 3 millions points per day.
DIP line: 5-10k per day.